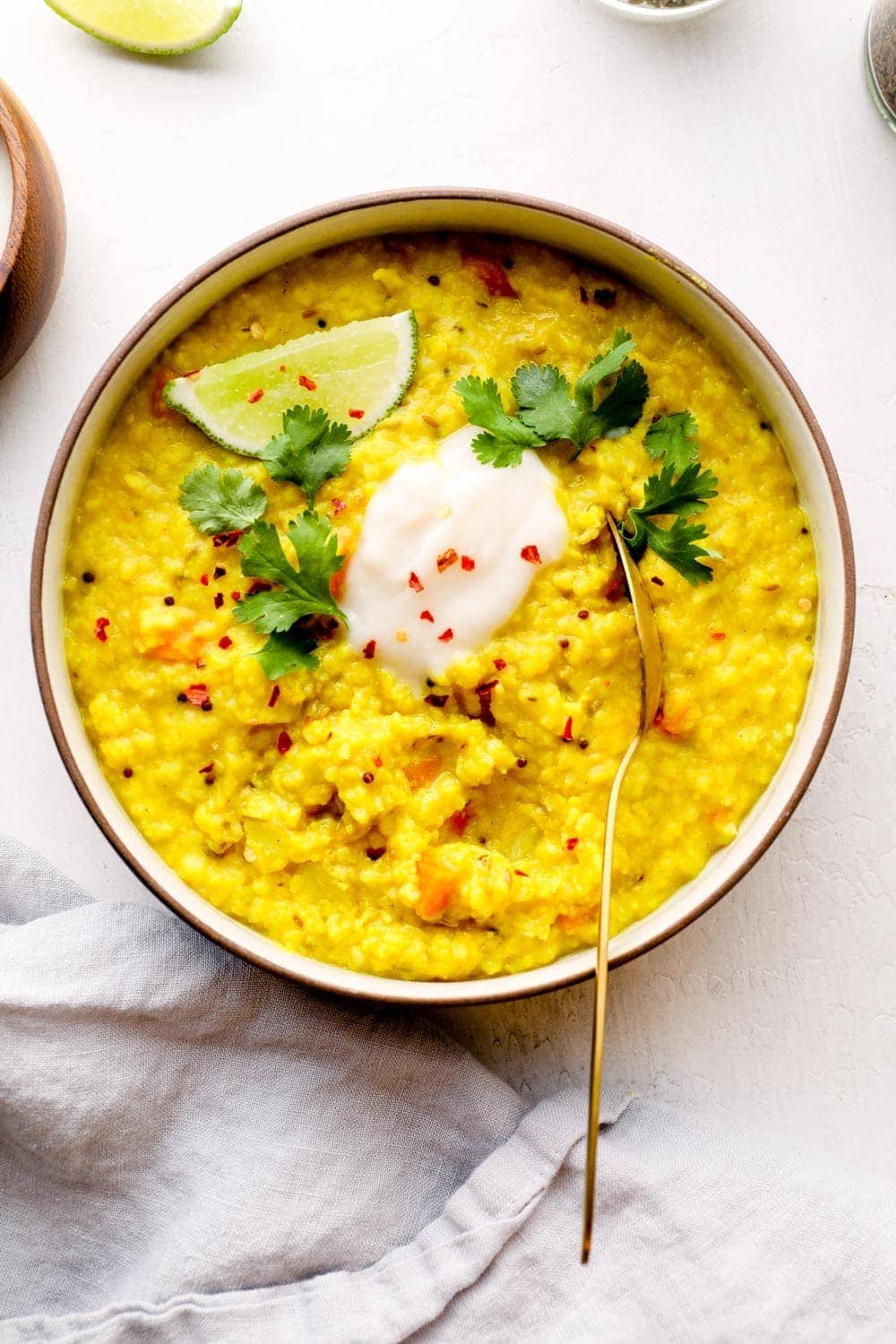 Improve Digestion with this Quick and Easy 20-Minute Kitchari Recipe
In the hustle and bustle of our modern lives, finding meals that are both nurturing to the body and quick to prepare can feel like a challenging task. Enter Kitchari: an ancient Ayurvedic dish that not only supports optimal digestion but also provides a harmonizing and wholesome meal option. If you're seeking a way to simplify your cooking routine without compromising on health benefits, this 20-minute Balancing Kitchari recipe is your solution.
Embracing the Wisdom of Kitchari
Kitchari, pronounced as "kit-cha-ree," has been revered in Ayurvedic practices for generations. This nourishing dish is crafted by combining mung beans (split yellow lentils) and rice, and then infusing them with a blend of soothing spices. Ayurveda, the timeless Indian system of medicine, places great importance on balanced digestion for overall well-being. Kitchari is often recommended to facilitate gentle detoxification, rejuvenation, and a sense of equilibrium.
Why This Recipe Deserves Your Attention
1. Swift Preparation: Life's demands can be relentless, leaving minimal time for extensive cooking. This recipe allows you to savor the benefits of Kitchari without dedicating hours to the kitchen.
2. Digestive Harmony: Enriched with a combination of well-selected spices, Kitchari aids digestion and supports a tranquil gastrointestinal system—ideal for those with sensitive stomachs.
3. Holistic Nutrition: Mung beans offer protein and fiber, while rice contributes essential energy. This union ensures a holistic nutritional blend within a single dish.
4. Customizable Creation: Although this recipe offers a foundational version, the option to personalize it with your preferred vegetables or spice adjustments empowers your culinary creativity.
Ingredients You'll Need
– 1/2 cup yellow mung beans (split) or red lentils, for an alternative
– 1/2 cup white basmati rice or any rice variety of your choice
– 1 tablespoon ghee (clarified butter) or coconut oil, if ghee is inaccessible
– 1 teaspoon cumin seeds
– 1/2 teaspoon mustard seeds
– 1/2 teaspoon turmeric powder
– 1/2 teaspoon ground coriander
– 1/2 teaspoon ground cumin
– 1 pinch asafoetida (hing) or a small amount of garlic powder, for substitution
– 4-5 cups water
– Salt, to taste
– Chopped fresh cilantro, for garnish
– Balancing Vegetable Options: Feel free to add any of the following vegetables to harmonize all doshas: zucchini, carrots, spinach, kale, sweet potatoes, or green beans.
Instructions
1. Rinse and Prepare: Begin by rinsing the mung beans (or alternative lentils) and rice together in cold water until the water runs clear. This minimizes excess starch.
2. Sauté the Spices: Heat the ghee (or coconut oil) in a spacious saucepan over medium heat. Add cumin seeds and mustard seeds. Allow them to sizzle and emit their aromatic essence.
3. Add the Rice and Beans: Introduce the rinsed mung beans and rice to the pan. Allow them to slightly toast in the ghee for roughly 2 minutes, occasionally stirring.
4. Seasoning:  Sprinkle in the turmeric, ground coriander, ground cumin, and asafoetida (or garlic powder). These spices enhance the flavor while contributing to balanced digestion.
5. Incorporate Vegetables: Toss in your chosen balancing vegetables, chopped into bite-sized pieces. These vibrant additions contribute to dosha equilibrium and nutritional richness.
6. Cooking: Pour in water and add salt to taste. Stir well. Bring the mixture to a boil, then reduce the heat to low. Cover and simmer for 15-18 minutes, ensuring the rice and beans are thoroughly cooked and the mixture resembles a porridge-like consistency.
7. Garnish and Serve: Turn off the heat and let the Kitchari rest for a few minutes. Serve it warm in bowls, garnished with chopped cilantro to invigorate the senses.
This 20-minute Balancing Kitchari recipe serves as both a time-efficient marvel and a gesture of appreciation towards your digestive system. Whether you seek a gentle cleanse, a swift meal, or a nourishing delight, Kitchari embraces all these roles. Fueled by easily digestible components and thoughtfully selected spices, it honors the tradition of Ayurveda while seamlessly adapting to the modern culinary landscape. Explore this recipe and indulge in its comfort and health-promoting wonders in just minutes.